Steffie Bryant is the Country Manager EMEA of Gymsales Software. With a solid background in the fitness industry, having worked for brands including Snap Fitness & Goodlife Health Clubs, we were looking forward to catching up with Steffie.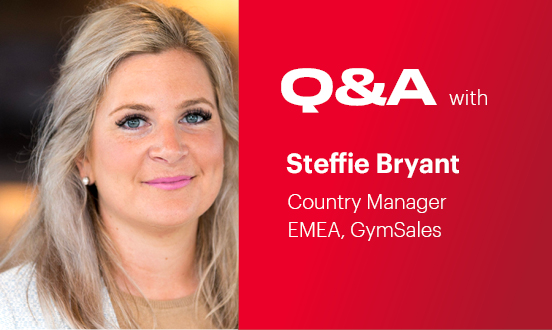 Steffie, you work with a lot of health clubs in the UK. Have you noticed anything that the successful clubs seem to do differently to those who may be struggling?
I don't think there is one particular one-size-fits-all approach. Each gym, brand, and location are unique. However, clubs that are choosing to invest in things that bring back members and extend their lifetime value, rather than investing in capital expenditures, are setting themselves up for long-term success. Gyms that are looking at their business numbers, understanding their ROI, and setting goals are better positioned to not only hold themselves accountable but their teams accountable, too!
I'm a firm believer that the goal posts never change, it just takes understanding the numbers to know exactly when to adjust your game plan!
What advice would you give to a manager of a Health Club who is experiencing low membership numbers post-covid?
First and foremost, know your business and know your numbers. Health club managers have a million things to manage and the number one thing they can do for themselves is to have an easy, accessible way to understand where their sales numbers are so they can continue to set realistic and achievable goals.
Second, start with the basics: What are your lead-to-member ratios? What can you do to improve them? For example, a 1% increase each day is a 7% increase over a week.
Third, have a lead generation mindset. The marketplace has changed, health and fitness are top of mind for consumers. This is an opportunity to capitalise on it and position yourself as an investment in their health and wellbeing.
Fourth, nurture your leads. I have a question that I like to ask operators: "Would you be in a better position today if you had a database of all the leads that have enquired about your gym?" The answer is yes. Invest in technology that not only captures your leads but also nurtures them so that your gym is top of mind when they are ready to decide.
Do you have any strategies to set a club up for success regarding achieving a high appointment show rate?
This is a great question and something I get asked all the time. There are two things that operators can do immediately to increase their appointment show rate. First, set appointments in an immediate time frame. Setting appointments out 2 weeks in advance gives leads an opportunity to enquire and sign up with other gyms. Set them up for today and tomorrow while you are still top of mind.
Second, send confirmation texts! Confirming an appointment can increase your show ratio by up to 40%!
‍
Learn More at GymSales.net
‍