David Monkhouse is the Co-owner and Director at Leisure-net Solutions. He is also an elected trustee for the Chartered Institute for the Management of Sport and Physical Activity. In his spare time, David loves to cycle, indoor row and runs a junior development hockey club – Trent Valley Hockey Club.
‍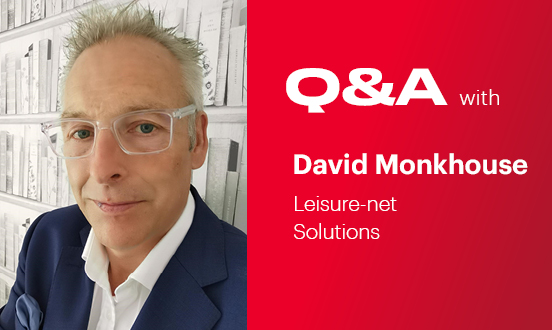 David, you have a wealth of experience in supporting organisations in the leisure industry. In particular your implementation of cleaning standards must have evolved or changed as a result of Covid. Can you tell us about this?
Interesting question, in the main the standards that were already in place, needed to be delivered fully. In addition to give as many customers confidence to return, showing customers that we are cleaning has become so important. Visible hand sanitisation combined with educating customers to clean down equipment after use has become the norm in many settings.
This can be achieved in a really positive manner, I recently saw a hand sanitisation station that was equipped with a large screen that promoted the clubs offer, promoted covid security measures and local businesses. The advertising effectively paying for the station and the sanitiser.
Within public leisure there now appears to be more time to clean, sessions are being booked with cleaning gaps in between, as an example swim sessions are 7am to 7.45am with 15 minutes allocated to clean before next session starts at 8am.
We carried out a survey in June 2020 after the first reopening, response from 50k customers below – cleanliness is really important!
What are some actionable steps health clubs can implement to measure customer experience?
There are a number of services that can really assist here.
• Make it as easy as possible for the customer to be able to tell you what they are thinking
• Respond to all feedback – positives get shared with team – negatives are areas for improvement
• Use a feedback system that gives the team an early heads up that someone has commented and respond quickly
• Make sure any system used provides trends – are comments coming from Group Exercise, fitness gym, sauna or pool and are they about cleanliness, the team or the programme? If multi-site – what does the combined trend tell you, and what you implement as an action in one club should apply to all.
• Closed Loop Net Promoter Score (NPS) – On a scale of 0 to 10, 10 being highly likely, how likely are you to recommend this club to a friend, relative or colleague? Lots of organisations to benchmark your score with, more importantly listen to what detractors are telling you (0 to 6) and do something about it. Ask passives (7 and 8) what can you do to enhance score and ask the promoters (9 and 10) to refer you – customer experience measure that generates leads!
‍
You are very experienced in change management. As we all know, people do struggle with change, especially in a professional setting. Do you have any insight to share on how to get the best result when implementing change in a business?
I love change management!
Understanding the current culture and how that was created is important – it will normally identify why change is needed and what the barriers to change are.
Co-creation – who is going to be effected by the need to change, involve them in the process and get them to share their story with others.
Talk and be open, why are we changing, what are we changing, what do we hope to achieve by the change and fully describe 'What's in it for the team'
Always build reflection time into the plan, has what we have done so far worked?
Be agile and not afraid to change during the change process – the environment around us is changing so fast, a decision 6 months ago may not be valid now.
‍